Todd McFarlane Shares Touching Story of His Recent Visit With Stan Lee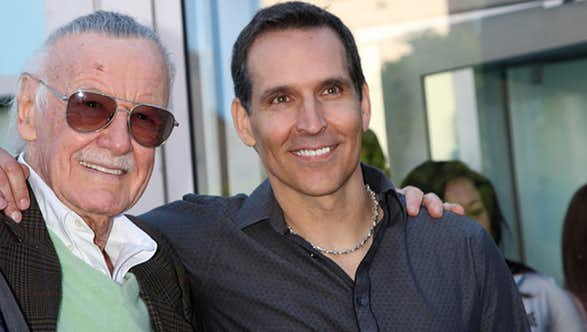 Spawn creator Todd McFarlane reveals a touching story to his fans about a recent visit to see comic book legend Stan Lee.
Now aged 95, Lee's health has been in the news a lot recently. Having started the year with a tough battle against pneumonia, Lee has also had to deal with reports of his own private life and concern for his wellbeing in his advancing years. Worried for his long-time friend, McFarlane decided to visit Lee at home to spend some one-on-one time with the man behind some of Marvel's best-known characters.
Related: Stan Lee's Stolen Blood Reportedly Used to Sign Comics
Writing on Facebook, McFarlane shared the story with his fans, giving a candid insight into the life of Lee at home and in the wake of his health scares.
While it seems there was plenty to talk about, McFarlane notes that Lee really does look like a 95-year-old and that comic book fans should remember this. Having been around for nearly a century, it is easy to forget that Lee really has seen it all. Elsewhere, Stan opened up about the loss of his wife Joanie in 2017 and clearly still thinks fondly of her. An hour may not have been long to spend together, but as McFarlane's post says, Lee confessed it was better than any medicine he could've taken.
McFarlane himself is something of an icon in the industry thanks to his creation of Spawn, but he is a huge fan of Lee as more than just a comic book creator. Also, McFarlane has an extensive history with Marvel, joining the publishing house back in 1988. Known for his stellar work on the The Amazing Spider-Man, McFarlane joined David Michelinie and worked on some of the title's most memorable issues. Both Marvel and McFarlane owe a lot each other, and Todd has the honor of being the man who first drew Eddie Brock/Venom and is often credited with the character's co-creation.
Related: Stan Lee Is a Serious Player in His Black Panther Cameo
While McFarlane has a lot of admiration for Lee, it works both ways. Interviewing McFarlane for the first episode of The Comic Book Greats back in 1991, the pair also collaborated on their own comic Blood Red Dragon back in 2011. Given Lee's recent health scares, he finally seems to be back on form and is currently attending Silicon Valley Comic Con after months of hiding from the limelight. No one lives forever, but at least in what could be some of Lee's final years, he has the support of comic book fans and the likes of McFarlane to keep him company with something as simple as a house visit.