News 'Ichirei Shite, Kiss' Live-Action Film's Trailer Previews Theme Song
Film starring Elaisa Ikeda, Masaki Nakao opens on November 11
The Natalie news website began streaming a trailer for the live-action film adaptation of Yakko Kaga's Ichirei Shite, Kiss (Make a Bow and Kiss) manga on Wednesday. The video previews the film's theme song "think of you" by lol.
The official website for the film previously streamed a teaser video on August 15.
The film opens in Japan on November 11.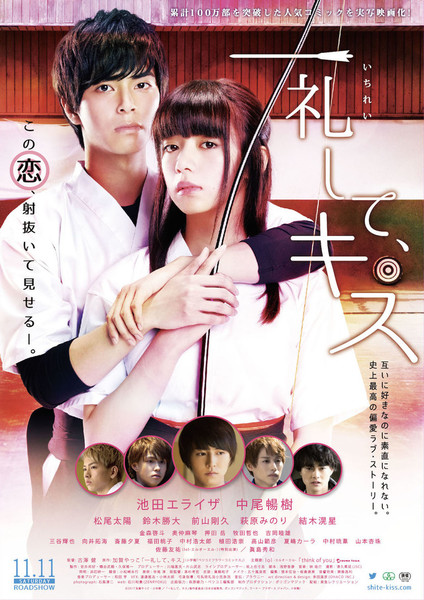 Elaiza Ikeda (live-action Wolf Girl & Black Prince, ReLIFE) will play the female lead An Kishimoto, and Masaki Nakao (Dōbutsu Sentai Zyuohger) will play the male lead Yōta Mikami.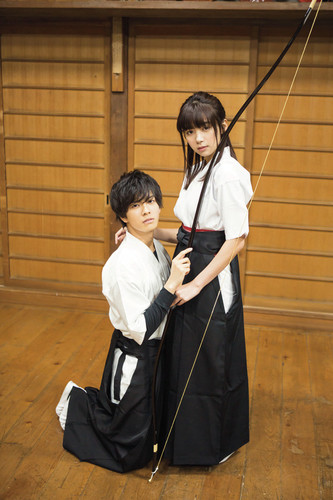 Additional cast members include (from left to right in the image below) Katsuhiro Suzuki as Kuwabara, lol's Yūsuke Satō as Shiraishi, Takehisa Maeyama as Igarashi, and Kōsei Yūki as Endō. The characters are all members of An and Yōta's archery club. (Note: Name romanizations not confirmed.)
Other cast members include Takashi Matsuo, Minori Hagiwara, Keito Kanamori, Makoto Okunaka, Gaku Oshida, Tetsuya Makita, Mutsuo Yoshioka, and Hidekazu Mashima.
Takeshi Furusawa is directing the film and Yukiyasu Asano is writing the scripts.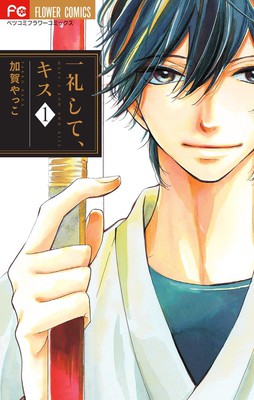 The manga's story centers on An Kishimoto, a girl who has been practicing archery for six years, since she was in middle school. Yet even as president of her high school archery club in her last high school tournament, she feels unsatisfied by her results and leaves behind regrets. The next person slated to be president is her underclassman Yōta Mikami, a person who never practices yet grabs first place in tournaments. He a boy for whom An holds some complicated feelings. When An is about to withdraw from her position and hand the position of president to Yōta, he stops her with a certain thought.
Kaga launched the manga in Betsucomi in 2012, and ended it in 2015. Shogakukan published seven compiled book volumes for the manga. The manga has more than one million copies in print.
Source: Comic Natalie